Dual driver communication
Connection with PLCs from different manufacturers can be realized.
It enables up to two models among various FA equipments to connect at the same time by effectively utilizing two serial ports.
It can connect to the temperature controller without programming while connecting with PLC. Monitoring, entering, sampling, and collective setting of the temperature controller memory can be performed easily.

Connecting directly to the temperature controller without programming actually eliminates the unit of the PLC used for temperature controller.
Monitoring and entering of temperature controller memory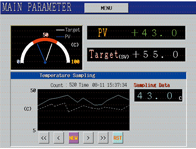 Temperature controller memory can be monitored by numeric display.
Entry mode can be used to control the parameters of the temperature controller.
Lamps or bit order alarming can monitor the abnormal conditions.
Sampling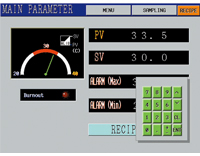 Ever-changing data and changes of the abnormal condition can be sampled and saved as records.
High-speed serial communication
187.5Kbps is available at COM1 port (Except S806M10D)

Manufacturer
Supported models
Siemens
S7-200 series (PPI connection)
S7-300/400 series (MPI connection)
Realize the comfortable operation such as the update of the configured program and responses at high-speed communication.
2-way communication is also available while performing the high-speed communication.

Multiple language switching
Language switching function is available for switching between maximum 16 languages
Employed multiple language switching function equivalent to the highly- functional model V8 series.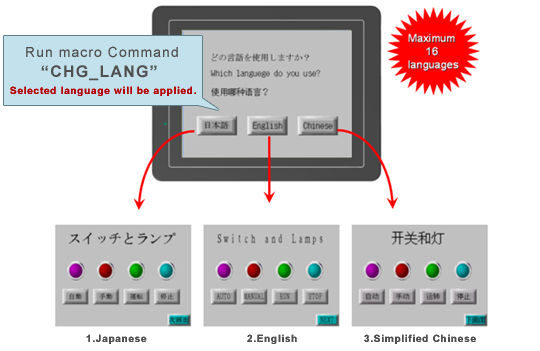 USB ladder transfer
Debug in PLC via S8 series
Writing and monitoring of the ladder program can be performed through USB port equipped with S8 series.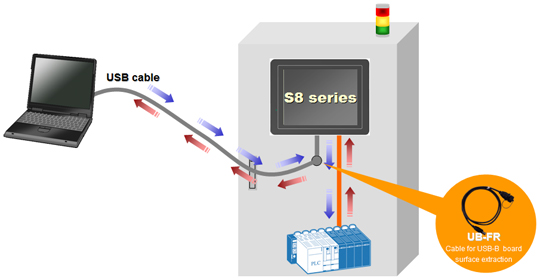 Manufacturer
Supported models
Mitsubishi Electric
QnH(Q) series CPU
Q00J/00/01 CPU
QnU series CPU
QnH(Q) series CPU(Multi CPU)
Fuji Electric
MICREX-SX SPH/SPB CPU
PLC programs can be easily debugged only by connecting the USB interface on face of the board with PC.